lenses
Sony E 35mm f/1.8 OSS Lens Review
Tiny, sharp, and affordable—what's not to like?
$398.00 at Amazon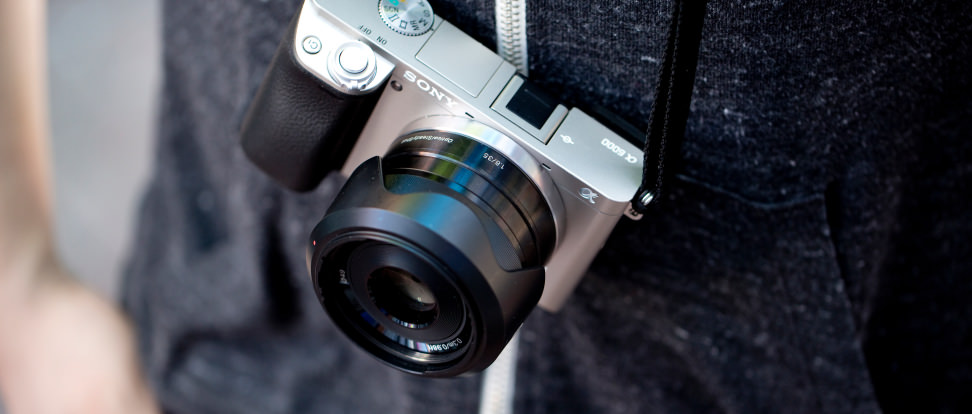 Credit: Kyle Looney / Reviewed.com
Sony's E-mount mirrorless cameras have been excellent performers for years, often providing the best price-to-performance ratio in the entire digital camera market. But since the system debuted in 2010, the brand's lens selection has left something to be desired. While competing systems offer a slew of sharp, fast prime lenses that are great in low light, Sony had relatively few options.
That's changed over the last couple years, thanks to the introduction of lenses like the Sony E 35mm f/1.8 OSS (MSRP $449.99). This wide-aperture normal prime lens is compact, well-built, sharp, and (best of all) affordable. And unlike most fast primes, goes the extra mile by offering optical image stabilization.
It's not the best lens in Sony's lineup, but if you bought into the promise of Sony's superb mirrorless cameras, this is the kind of lens that will repay your faith.
Who's It For?
Like most normal primes, the 35mm f/1.8 OSS is a general-purpose lens that provides an angle of view very similar to what your eyes see. That means that while it's not a perfect fit for everything, it's usable for all kinds of photography, from street shooting to travel and portraits.
The f/1.8 maximum aperture is a big boost when you're shooting in dim conditions, letting in lots of light and helping isolate your subject from the background. This isn't a purpose-built portrait lens, but it can certainly be used like one, crisply rendering faces over creamy-smooth blurs of light and color.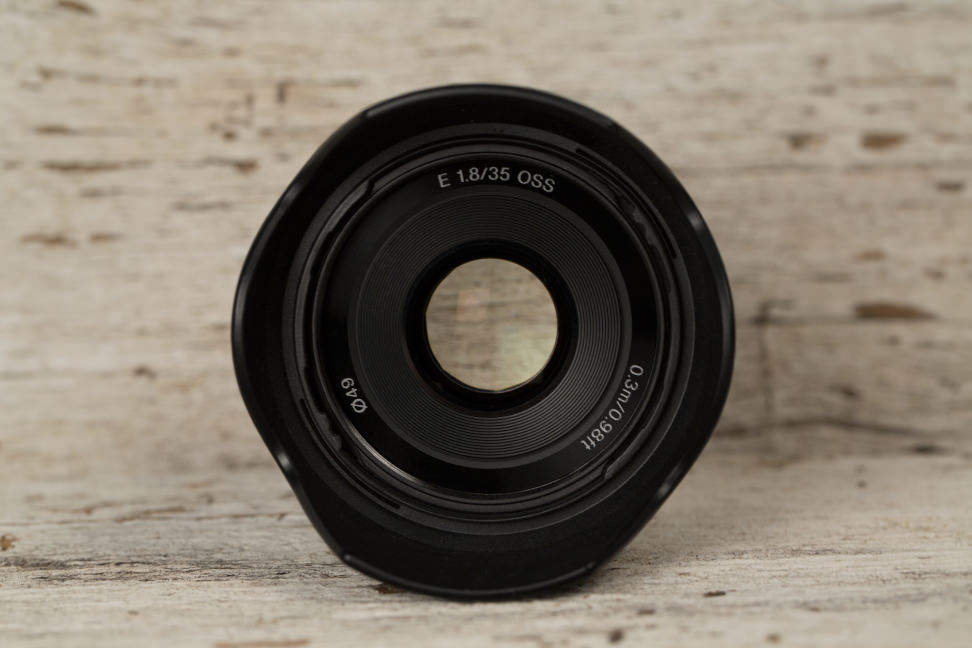 Perhaps the best thing about this is lens is how compact it is. Sony has made a big deal about how small its E-mount cameras are, and this the 35mm f/1.8 is the perfect complement. Its potent combination of size, flexibility, and performance makes it an ideal travel lens, especially if you want something that won't hurt your neck after a long day of shooting.
One important note: This lens was designed to be used with Sony's APS-C mirrorless cameras, like the older NEX-5T and new Sony A6000.
On these cameras, it behaves like a 52.5mm lens would on a full-frame camera. Confusingly, it will behave that way even on a full-frame E-mount camera (like the Sony A7 II), since the image circle wasn't designed to cover the larger full-frame sensor and the camera will engage its automatic crop mode. If you have a full-frame "FE" Sony camera and want a true 35mm field of view that covers the entire sensor, consider the Sonnar T* FE 35mm F2.8 ZA.
Look and Feel
While Sony was a little late to the party when it came to beefing up its lens selection, this one and the very similar 50mm f/1.8 OSS have made a solid first impression. They're inexpensive, but they don't feel cheap. The bodies are all metal, which feels much more robust than the plastic used in many (often more expensive) prime lenses from other systems.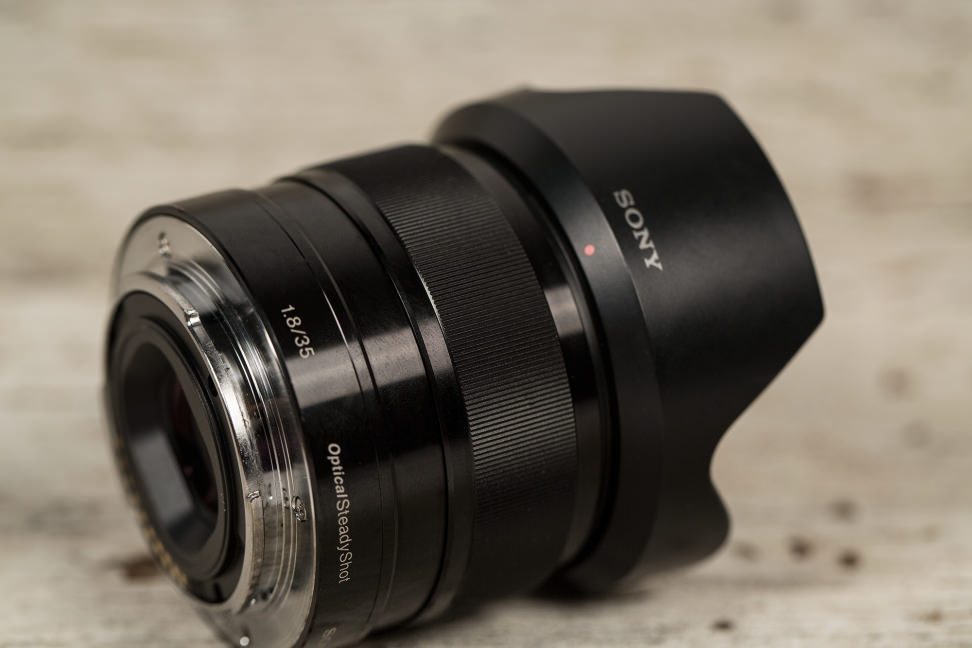 They're also exceedingly minimalist in design, which means there's not much to talk about with regard to this lens's looks and operation. The only physical control is the ribbed focus ring, which has a decent throw but a fairly loose/imprecise feel. Like most modern autofocus lenses, it uses a focus-by-wire system. This can make subtle focus adjustments difficult, but you can lean on focus peaking and focus magnification with most Sony cameras.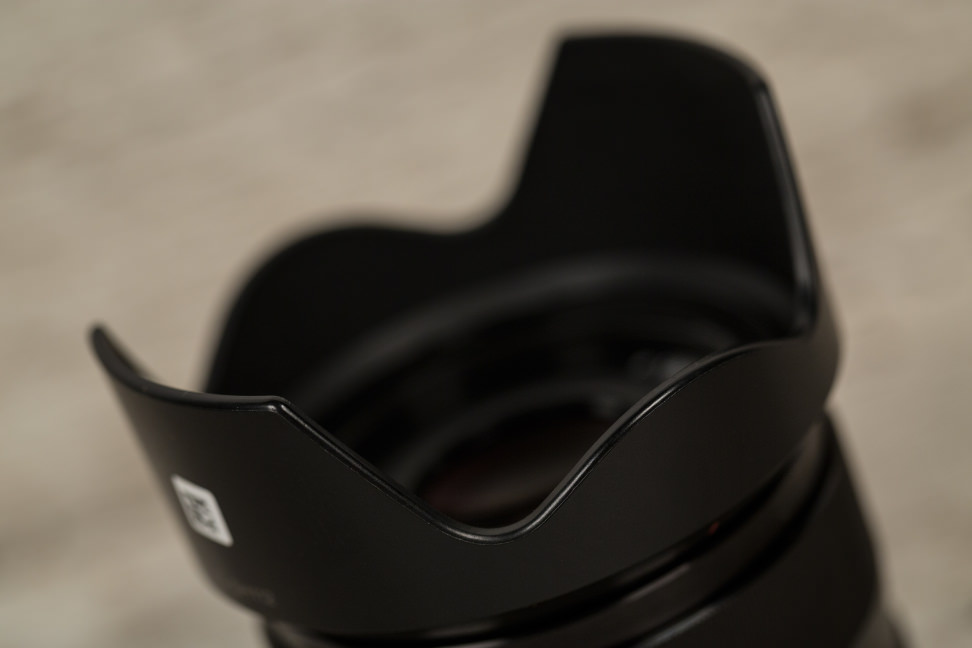 Everything else is controlled from the camera, including focus mode and the operation of the in-lens optical stabilization system (OSS). This isn't a huge deal, but it means diving into the menu every time you need to make an adjustment instead of just flicking a switch.
Comparable Products
Before you buy the Sony E 35mm f/1.8 OSS, take a look at these other lenses.
Image Quality
The Sony 35mm f/1.8 OSS is designed to be a catch-all prime lens—an alternative to your kit lens when low-light performance, superior sharpness, and enhanced bokeh are called for. In our lab tests, it proved itself up to the task. While not exemplary at every aperture, this is a lens that's free of optical defects and sharp throughout most of the aperture range.
In terms of pure sharpness, it excels from f/5.6 to f/8. It does well enough from f/1.8 through f/4—which is where you'll probably find yourself when you're shooting in dim light—but it's much sharper in the center at these settings than it is toward the edges of the frame.
Creatively, the Sony 35mm f/1.8 OSS is capable of a broad variety of shots. The crop factor that applies on APS-C cameras gives you a "normal" field of view that closely approximates what the human eye sees, making it an ideal fit for documentary shooting, street photography, and casual portraiture.
The shallow depth of field effect you can get at f/1.8, especially when focusing up close, creates some super-smooth backgrounds. And combined with onboard optical image stabilization, the unusually wide aperture also gives you plenty of usability in poor light.
Below you can see sample photos taken with the Sony 35mm f/1.8 OSS mounted on a Sony A6000. Click the link below each photo to download the full-resolution image.
Conclusion
When you're first buying into a lens system, whether you're a newbie or a seasoned vet, you should look for an inexpensive prime lens. The kit zooms that come with most interchangeable lens cameras these days usually suffer from compromises in their optical designs, and don't do these cameras justice. Primes are a perfect salve, offering superb sharpness and creative possibilities cheap zooms can't match.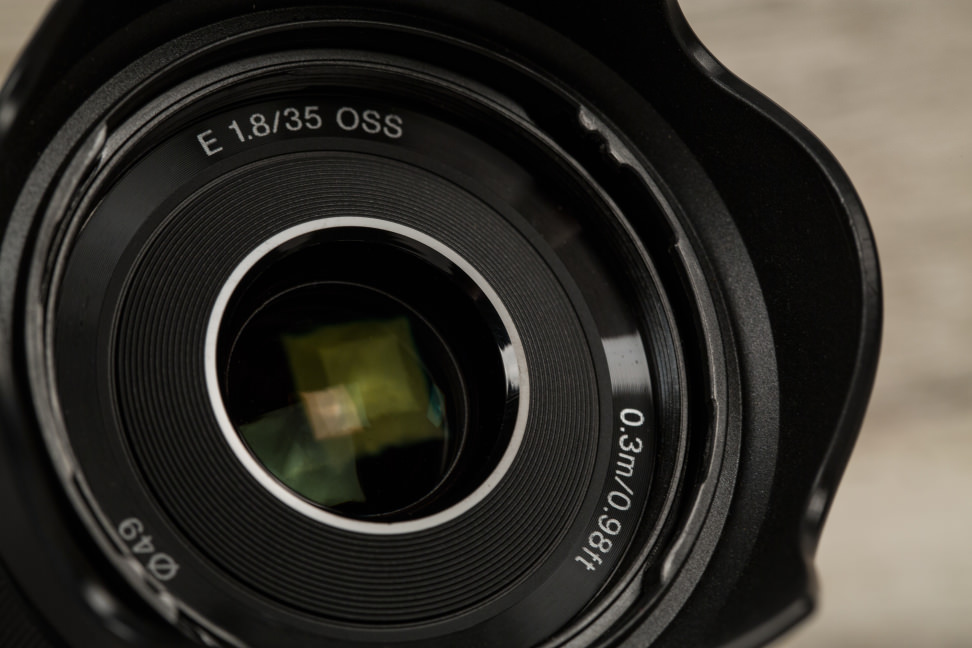 The 35mm f/1.8 OSS is a perfect example. It's great in low light, provides superb resolution for the price, and packs optical image stabilization that gives it a leg up on similar lenses in other systems. Best of all it's tiny, so it won't weigh you down over a long day of shooting, or throw your tiny mirrorless camera off-balance.
The biggest issue we have with the Sony 35mm f/1.8 OSS is its extreme minimalism. Unlike similar lenses from Canon and Nikon, all of its controls are relegated to the camera body. Worse, the focus-by-wire system is a bit chintzy, making it hard to focus manually. It's not a deal-breaker—particularly with the inclusion of focus peaking and magnification—but Sony's implementation is particularly frustrating for MF aficionados.
Gripes aside, the Sony 35mm f/1.8 is a fantastic all-around lens that provides great value to photographers of all skill levels.
At $450 (or $400 or lower on sale), it's a bit pricier than the similar Sony 50mm f/1.8 OSS, but the more flexible 35mm focal length is a better choice for general-purpose photography. Gripes aside, it's a fantastic all-around lens that provides great value to photographers of all skill levels.
Our editors review and recommend products to help you buy the stuff you need. If you make a purchase by clicking one of our links, we may earn a small share of the revenue. Our picks and opinions are independent from any business incentives.