lenses
Olympus M.Zuiko 75mm f/1.8 Lens Review
This premium portrait prime is a pleasure to use.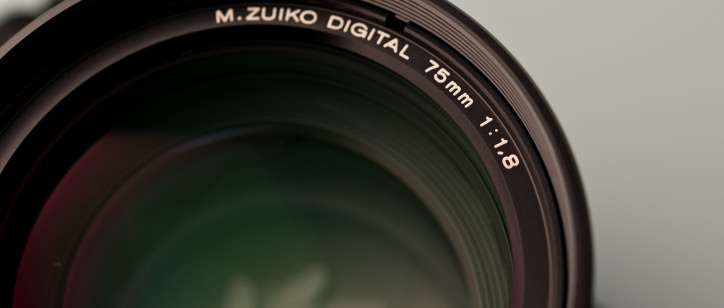 Credit: Reviewed.com / Brendan Nystedt
Olympus has a long history of making cameras and lenses, going all the way back to 1936. In the digital era, Olympus has been responsible for popularizing mirrorless camera designs, and pushing them to become products suitable for even professional use.
Today, the Micro Four Thirds standard Olympus created with Panasonic is host to the oldest, largest collection of mirrorless camera lenses, and the M.Zuiko 75mm f/1.8 ED MSC (MSRP $799.99) is another gem in an outstanding lineup. Though its 150mm effective focal length is a bit longer than we've come to expect from a professional portrait lens, this is one of the best that you can buy in any system.
In the lab and in the field, this lens has proven itself to be a phenom. It presents some creative challenges, but its compact size mean it's a lens that you can almost always keep on you. It won't get as much work as the shorter primes in your bag, but when the situation calls for it, this lens will produce exceptional results.
Who's It For?
The 75mm f/1.8 is a purpose-built portrait lens, albeit a slightly odd one. Olympus's own 45mm f/1.8 prime offers a more traditional portrait field of view (90mm equivalent) and is considerably less expensive ($350). And if you just want the best of the best, Panasonic's $1,600 Leica Nocticron 42.5mm f/1.2 offers superior sharpness and bokeh.
Still, the 75/1.8 has charms of its own. For one thing, its all-metal build is far more robust than the plasticky 45mm, and its longer focal length and reasonable close focus distance creates shallower depth of field at f/1.8. It can't match the 42.5mm f/1.2 Nocticron for sheer performance, but it's also half the price—and a heck of a lot smaller.
The wide f/1.8 maximum aperture also makes the Olympus 75mm a great choice for low-light photography. That's doubly true on Olympus PEN and OM-D cameras, which feature in-body image stabilization; Panasonic camera users will have a slightly rougher time, since there's no in-lens stabilization system and their cameras (GX7 aside) can't do any of the stabilizing.
A 150mm equivalent focal length will limit your shooting options to a certain degree. It's kind of an oddball focal length, midway between traditional portrait and traditional telphoto. Still, it has its uses. For tight head shots it's a great choice, and it can work for sports and wildlife in a pinch. Heck, its excellent sharpness even makes it a great lens for capturing more distant landscapes.
Advertisement - Continue Reading Below
Look and Feel
Though it's smaller and lighter than the typical portrait lens thanks to the smaller Micro Four Thirds sensor, the M.Zuiko 75mm feels incredibly solid. The all-metal body and three little words—Made in Japan—should tell you all you need to know.
Like several other Olympus lenses, the 75mm comes in both black and silver. We prefer the black version, since it tends to match the company's bodies a little better. Annoyingly, the silver finish Olympus uses on lenses doesn't match its silver cameras, which tend to be closer to champagne. It's a nitpick, for sure, but we're perfectionists.
The lens is extremely minimalist in design. The only physical control is a huge, exquisitely smooth-turning focus ring with a machined metal grip. As on virtually all native Micro Four Thirds lenses, the ring spins freely, without any feedback when it reaches the ends of its focus range.
But unlike some other premium Olympus primes there's no autofocus/manual focus clutch, so you don't get a focus scale or improved tactile feedback. This is a lens designed for autofocus first and foremost, with manual focus a distant concern.
Olympus sells a metal lens hood (LH-61F), but it's almost $80 extra at retail—and truthfully has more aesthetic than practical value. You probably don't need it—we certainly didn't observe flare issues in the field. There's also a matching metal lens cap (LC-61), designed to slide over the hood; it's another $40 on top. We'd love to see Olympus throw in these extras with a lens that costs this much. As it stands, all you get are plastic front and rear caps.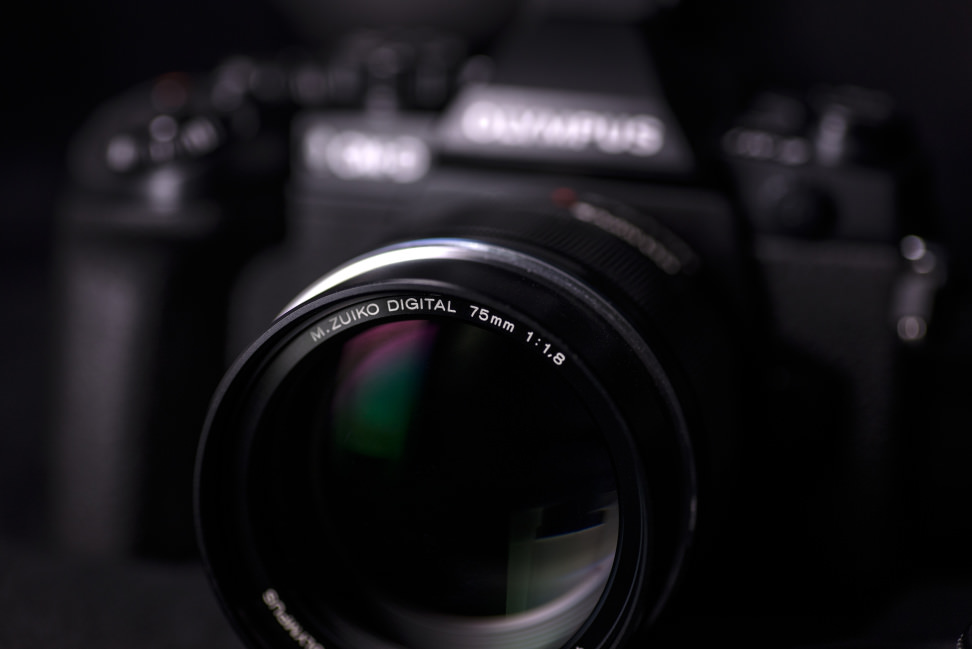 Image Quality
Olympus's compact premium prime lenses have a great reputation among Micro Four Thirds shooters, but this 75mm is perhaps the best of them all. In the lab, we were wowed by its excellent sharpness and beautiful bokeh.
Many lenses are passably sharp shot wide open, but the Zuiko 75mm is surprisingly consistent from the get-go. Right from f/1.8, shots are crisp across the frame (though the corners are slightly softer than the center). Peak sharpness is right around f/4, but we like f/2 or f/2.8 for the best combination of sharpness and rounded, smooth bokeh.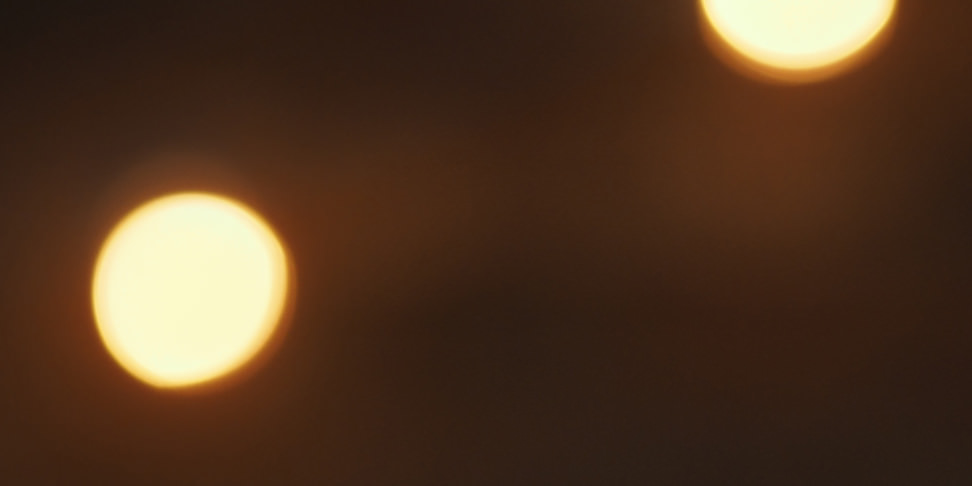 The out-of-focus areas this lens produces are quite smooth and creamy, though there are a few minor issues that hold it back from perfection. Points of light toward the corners of the frame get a bit squished, and while we didn't see any nasty "onion ring" effects, there is some haloing around these bright areas. Still, on the whole the 75mm f/1.8 a very, very strong performer that, due to its long focal length, stands up well to even full-frame portrait lenses.
Below you can see sample photos taken with the Olympus M.Zuiko 75mm f/1.8 mounted on an Olympus OM-D E-M1. Click the link below each photo to download the full-resolution image.
Conclusion
Simply put, we're big fans of this lens. Having used it with a variety of Micro Four Thirds cameras over the years, from the pro-grade Panasonic Lumix GH4 to the cheap-and-cheerful Olympus PEN E-PM2, we're confident in proclaiming it one of the best in the system.
There are only a few other M43 lenses that really give this Olympus a run for its money. If you can't afford the $800 asking price, you can consider a cheaper alternative like the Sigma 60mm f/2.8 DN Art ($239). It's not as bright, and you'll miss out on the 75mm f/1.8's premium build. Ditto for the $350 Olympus 45mm f/1.8 (minus the aperture part, of course).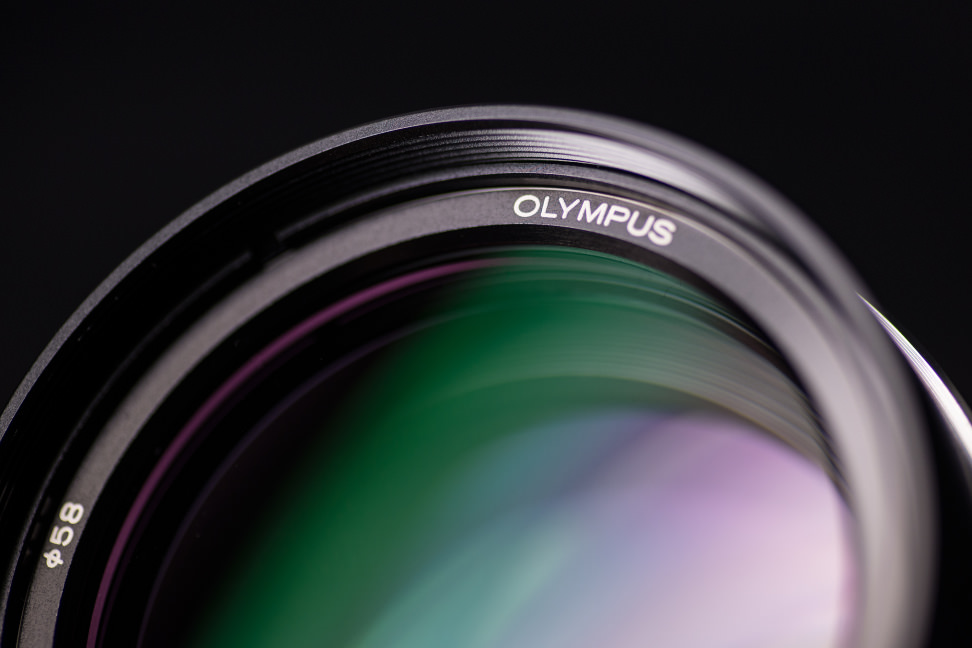 The more expensive option is the Panasonic Leica Nocticron 42.5mm f/1.2. Sure it's $1,600, but it does include a solid metal lens hood, a really handy aperture ring, and optical image stabilization. Oh, and it's the best Micro Four Thirds lens we've tested thus far.
But if you just want a really nice, appropriately priced portrait lens for your Micro Four Thirds camera, you'd be hard-pressed to find a better all-around choice than the M.Zuiko 75mm f/1.8. It's got an awkward focal length that can make it unsuitable for tight confines and indoor portraiture, but when you nail it with this lens, you really nail it.
Pound for pound—and dollar for dollar—it's just some of the best mirrorless glass you can buy.
Our editors review and recommend products to help you buy the stuff you need. If you make a purchase by clicking one of our links, we may earn a small share of the revenue. Our picks and opinions are independent from any business incentives.
Our editors review and recommend products to help you buy the stuff you need. If you make a purchase by clicking one of our links, we may earn a small share of the revenue. Our picks and opinions are independent from any business incentives.
Advertisement - Continue Reading Below
Compare Prices
Our editors review and recommend products to help you buy the stuff you need. If you make a purchase by clicking one of our links, we may earn a small share of the revenue. Our picks and opinions are independent from any business incentives.
Get Our Newsletter
Real advice from real experts. Sign up for our newsletter
Thanks for signing up!