lenses
Olympus M.Zuiko 17mm f/1.8 Lens Review
A lens that puts manual focusing a snap away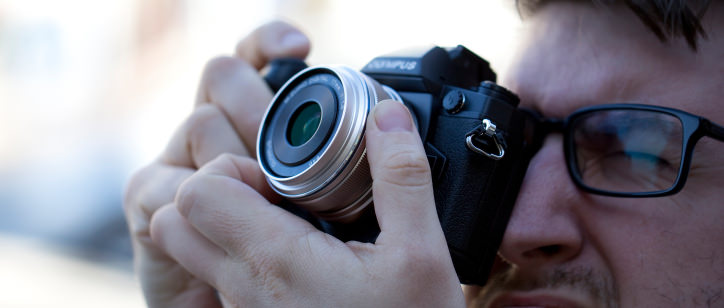 Credit: Reviewed.com / Kyle Looney
Olympus makes some great lenses for its Micro Four Thirds cameras, but not all of them really feel like it at first touch. Some of the company's offerings—even fantastically sharp prime lenses—contain super sweet optics, but have outer cases that are made of flimsy-feeling plastic instead of metal.
Enter the premium-grade Olympus M.Zuiko 17mm f/1.8. If you're an M43 shooter looking for a multi-purpose prime that happens to look and feel a lot like a manual focus lens from the film days, this is your ticket.
The 17mm focal length—when you consider that it's equivalent to a 34mm lens on a full-frame camera—gives the lens a flexible field of view that's great for a lot of everyday shooting scenarios. This isn't the sharpest lens in Olympus's lineup, but if you're looking for a standard prime with high-quality build for a Micro Four Thirds camera, the 17mm is a solid candidate.
Who's It For?
If you're just branching out from your kit zoom, the Olympus 17mm f/1.8 is a good pick—especially if you prefer a slightly wider than "normal" field of view. Its sub-$500 price makes it accessible even to beginners, though it does face some stiff competition from the cheaper and extremely sharp Panasonic 20mm f/1.7.
What the 17mm f/1.8 offers over the Panasonic 20mm is rock-solid all-metal build quality and a classic retro look. When it's paired with an Olympus PEN or OM-D camera, you'd be forgiven for confusing the setup for an old-school film rig. Aside from the build, it also offers Olympus's trademark focus clutch, which lets you slide the focusing ring forward for autofocus and back for manual focus, with stiffer resistance for more accurate results.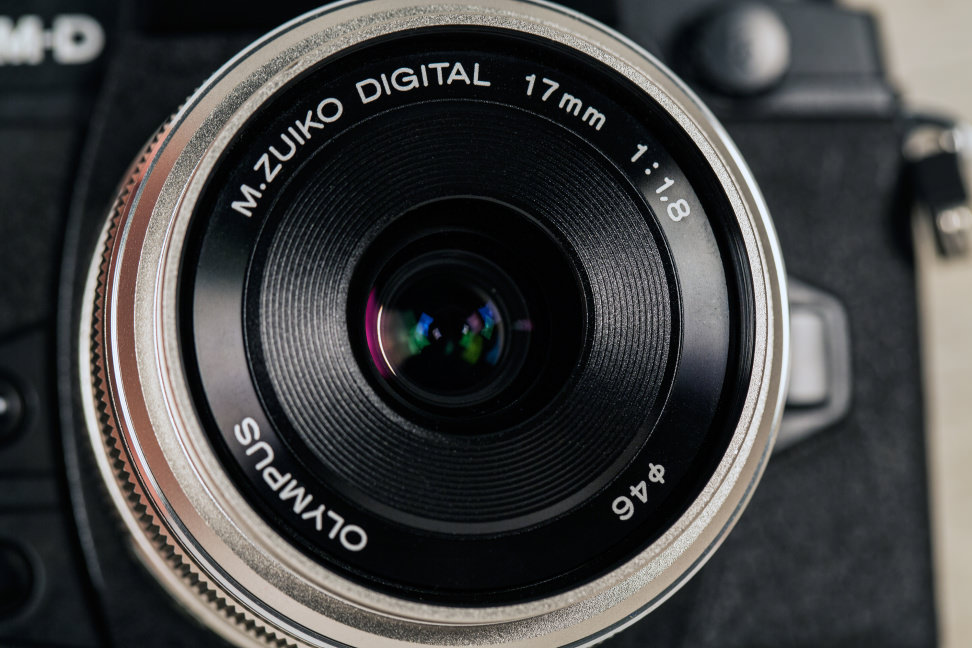 This lens is also quite fast, with an f/1.8 aperture that accommodates low-light shooting well and gives you great separation between your subject and the background when you focus up close. It may not be the sharpest lens in the Micro Four Thirds system, but it occupies a unique spot for the moment—for many, that will be enough.
Advertisement - Continue Reading Below
Look and Feel
The M.Zuiko 17mm f/1.8 is a jewel-like lens with top-notch build quality, and it's available in both silver and black to match your Olympus camera. (Though, frustratingly, the silver paint Olympus uses on its high-end primes has a more champagne hue than its bluish bodies.)
This lens has one of the most fine-tuned manual focus rings in Olympus's whole lineup, thanks to the clever focusing ring clutch. When you slide the ring back, it converts from autofocus to manual, tightens the focusing action, and reveals an engraved focusing scale. Only a few other Olympus lenses offer this feature—including the 75mm f/1.8 and 12-40mm f/2.8 PRO—and even fewer lenses in other systems can do the same thing.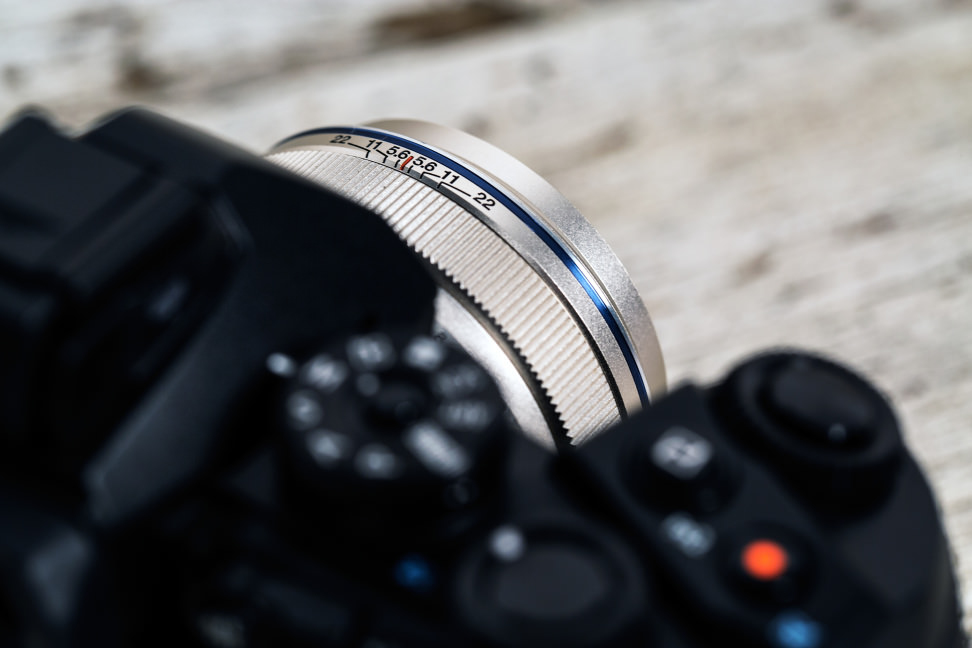 The body and rings are made of premium metal, with engraved lettering all around. The lens's small front element belies the fact that it has a fast f/1.8 aperture. Around the the front edge of the lens is a subtle blue ring, along with a bit of chrome trim that signifies this lens's premium status in the Olympus lineup. The MSC badge indicates it includes a super-quiet autofocus motor—an invaluable feature when shooting video.
The only disappointment? The 17mm f/1.8 is a little more expensive than similar lenses in the Micro Four Thirds system. You'd think that at the $500 asking price it might come with some modest extras in the box, like a case or a lens hood, right? Wrong. While there is a compatible lens hood available, it'll cost you an extra $60. There's also a premium metal lens cap that's designed to slip over the lens hood. That's an extra $30, depending on where you shop.
Image Quality
Given our past experience with premium Olympus lenses, we had high hopes for this 17mm f/1.8. But while it's undoubtedly a major upgrade over both the older Olympus 17mm f/2.8 your average kit lens, it has enough issues to keep us from giving it our wholehearted recommendation.
Sharpness isn't a problem in the center—even when you open the aperture all the way up at f/1.8, resolution is high. This lens produces its sharpest results once you stop it down to f/4, with center sharpness that's over 2,000 lines. But unfortunately, the corners never improve the way we'd hope, staying below 1,300 lines at most apertures.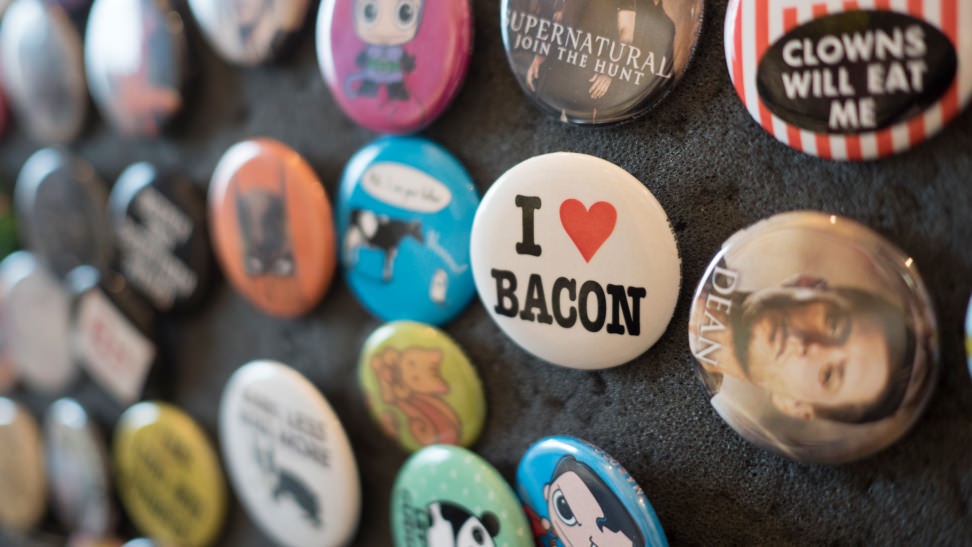 The out-of-focus areas you can get from the 17mm f/1.8 are also pleasing, but there are some minor issues to keep in mind. There's some obvious coma as you move toward the corners, and while we didn't notice much fringing, there's definitely some unwanted texture to the highlights as the "onion ring" effect rears its ugly head.
While a little ovoid, the shape of the bokeh is at least soft and roundish without strong haloing. The 17mm f/1.8's seven rounded aperture blades also work to keep the bokeh more consistent as you stop down, unlike some lenses that can create geometric-looking out-of-focus elements.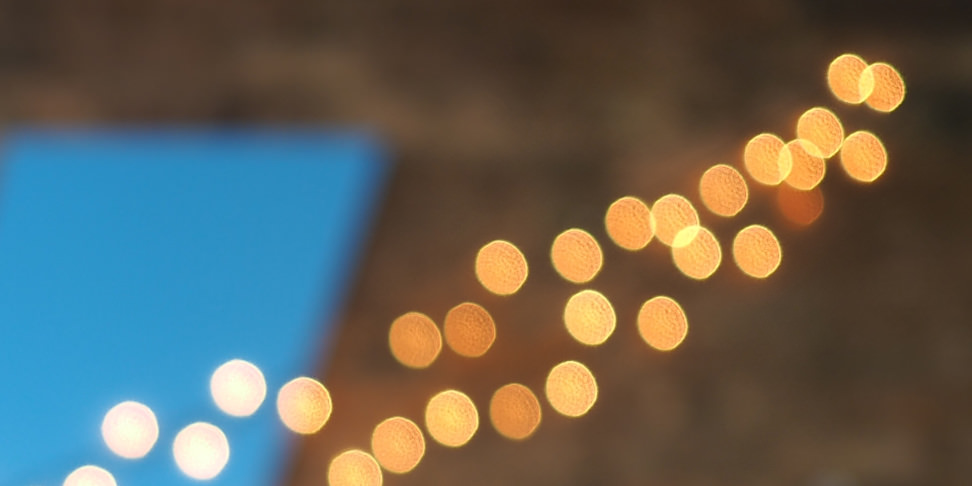 These issues were evident in real-world shooting. The lens can create nice subject separation if you're focusing closely and using the maximum aperture, but the results aren't as sharp as what you get when you stop down. Shooting wide open gives you some lovely bokeh, but it's plagued by onion ringing that's so bad that you have to be very careful when sharpening your photos—something you'll definitely want to do, given the iffy f/1.8 results.
Ultimately, you can still take some very lovely photos with this lens, but there are compromises to keep in mind.
Below you can see sample photos taken with the Olympus M.Zuiko 17mm f/1.8 mounted on an Olympus OM-D E-M1. Click the link below each photo to download the full-resolution image.
Conclusion
While we found that this lens is a capable performer under the right circumstances, and we love its signature "snapshot" focus ring, there are simply better choices out there for Micro Four Thirds shooters—several of which are actually less expensive.
We love the Olympus 25mm f/1.8, for instance. While it's not made of metal, it's lightweight and super sharp, with a very useful 50mm equivalent focal length. If you're after a pancake lens, the Panasonic Lumix 20mm f/1.7 is an excellent alternative that bridges the gap between the 17mm and 25mm focal lengths. If you have a smaller camera like the PEN E-P5 or Lumix GM1, the 20mm f/1.7 can round out a pocket-friendly setup.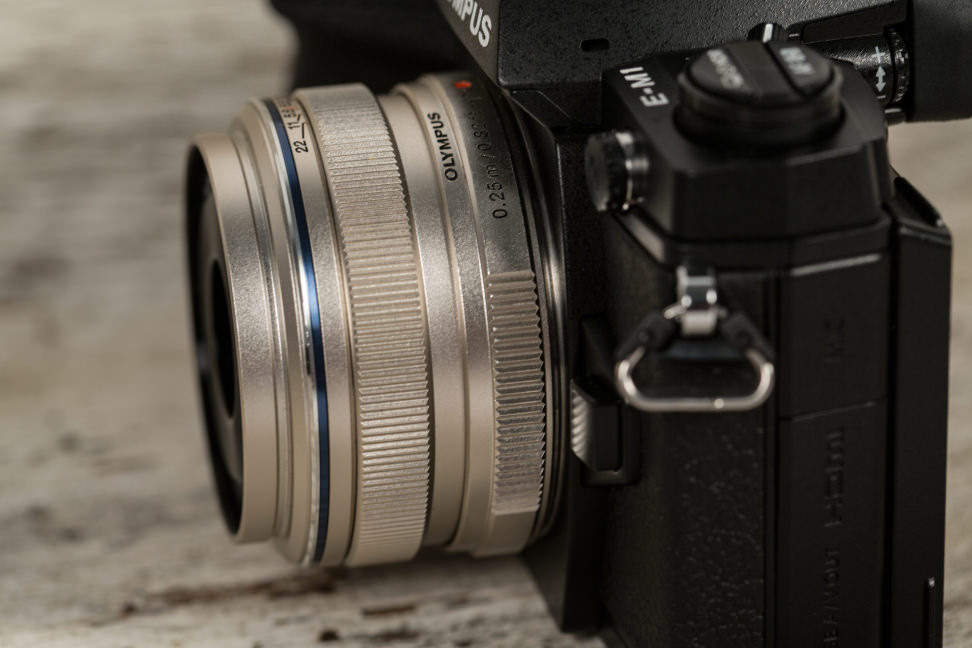 That said, this lens is very well built. It's $100 more than the Olympus 25mm f/1.8 and it feels way more premium in your hands. The focus ring is excellent, and it complements the retro good looks of cameras like the Olympus PEN, OM-D, or Panasonic Lumix GX7 quite well. If you loved your 35mm prime in the film days, be prepared to fall in love all over again with the Olympus M. Zuiko 17mm f/1.8.
From a pure performance standpoint, however, the 17mm f/1.8 comes up a bit short of the M43 pack. That's no sin—it has become a deep, well-rounded system in the last couple years—but it's enough to give us pause. For the right shooter, this lens is definitely worth the money, but others may be better served by one of its many rivals.
Our editors review and recommend products to help you buy the stuff you need. If you make a purchase by clicking one of our links, we may earn a small share of the revenue. Our picks and opinions are independent from any business incentives.
Our editors review and recommend products to help you buy the stuff you need. If you make a purchase by clicking one of our links, we may earn a small share of the revenue. Our picks and opinions are independent from any business incentives.
Advertisement - Continue Reading Below
Compare Prices
Our editors review and recommend products to help you buy the stuff you need. If you make a purchase by clicking one of our links, we may earn a small share of the revenue. Our picks and opinions are independent from any business incentives.
Get Our Newsletter
Real advice from real experts. Sign up for our newsletter
Thanks for signing up!