lenses
Fujifilm XF 16-55mm f/2.8 R LM WR Lens Review
Fuji's first pro zoom is a bold step forward for X mount.
$1,199.95 at Amazon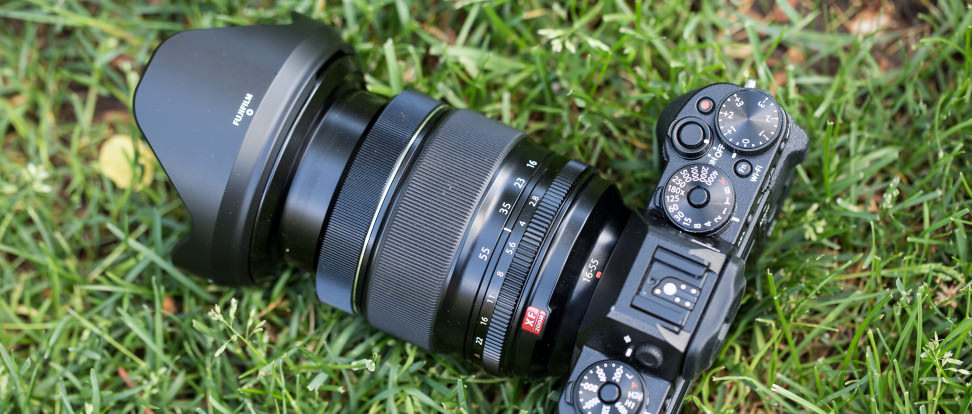 Credit: Reviewed.com / Kyle Looney
When mirrorless cameras first hit the scene, the vast majority were geared toward novices. Over time, however, that began to change. One of the first models that targeted enthusiasts was Fujifilm's X-Pro1, a camera that declared—right there in the name—that it was aiming a little higher than entry level.
Flash forward to 2015 and every mirrorless system has a high-end body. Fujifilm's own X-T1 debuted in January of last year, taking over the reins from the X-Pro1. When it arrived, it boasted an incredible viewfinder, excellent build quality, and full weather sealing, but despite offering a plethora of available high-quality prime lenses, the system was missing one key elements: pro zooms.
This year, Fuji finally released the XF 16-55mm f/2.8 LM R WR (MSRP $1,199), the archetypical fast normal zoom lens that top-notch systems are built upon. The 16-55mm f/2.8 is an all-purpose zoom designed to master a wide variety of photographic pursuits. It's also one of Fuji's most ambitious lenses to date, offering top-notch image quality, weather sealing to match the brand's top camera, and phenomenal ergonomics.
And after spending some time with it in the lab and in the field, we're prepared to say it might just be the most useful lens in Fuji's lineup.
Who's It For?
Fast normal zoom lenses like the Fujinon XF 16-55mm f/2.8 LM R WR are designed to be useful in just about every situation. With constant, bright apertures they're able to handle dim lighting and unpredictable conditions, letting you zoom in and out without compromising your exposure. In the case of this particular lens, weather sealing further cements that flexibility, giving you the ability to keep shooting even in inclement weather.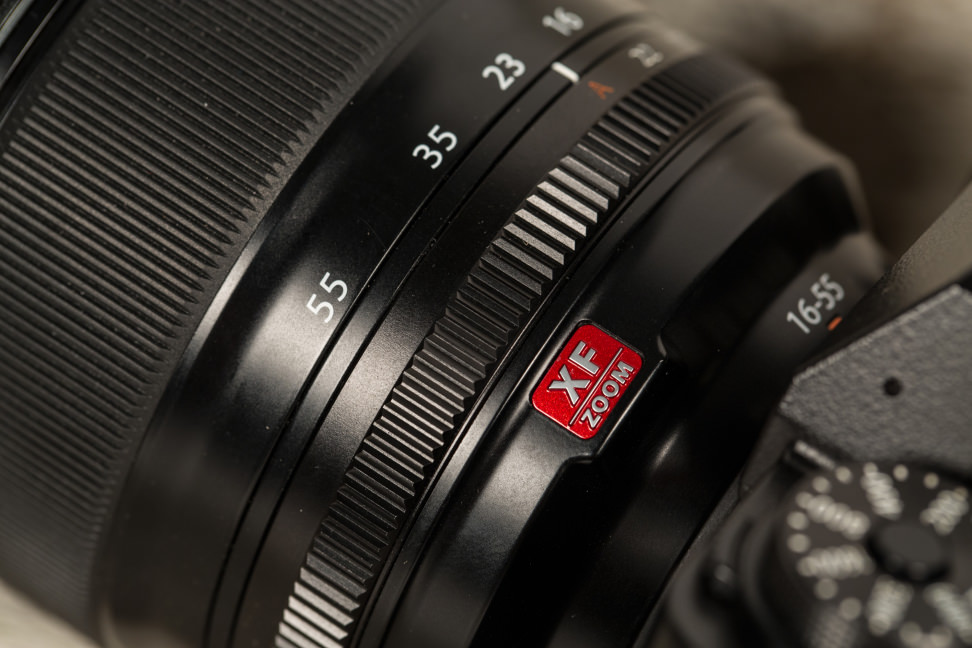 Because Fujifilm's X-series cameras use APS-C sensors that are smaller than the full-frame chips found in pro-grade cameras, this 16-55mm lens actually has a field of view equivalent to a full-frame 24-82.5mm lens. That's pretty close to the 24-70mm f/2.8 pro zoom that you'll find in the bags of most Canon and Nikon professionals.
Ultimately, this lens should appeal to both the relatively small number of pros shooting with the Fuji X system and the much larger pool of enthusiast/hobbyist photographers that is Fuji's core demographic. It's a great lens for weddings, parties, and travel—kind of like cramming a bag full of primes into a single lens tube.
Look and Feel
One of the things that separates Fujfilm's lenses from those of its competitors is its reliance on old-school, physical controls. The bodies almost all feature ISO and shutter speed dials, and most XF lenses have dedicated aperture rings. This 16-55mm f/2.8 is no exception.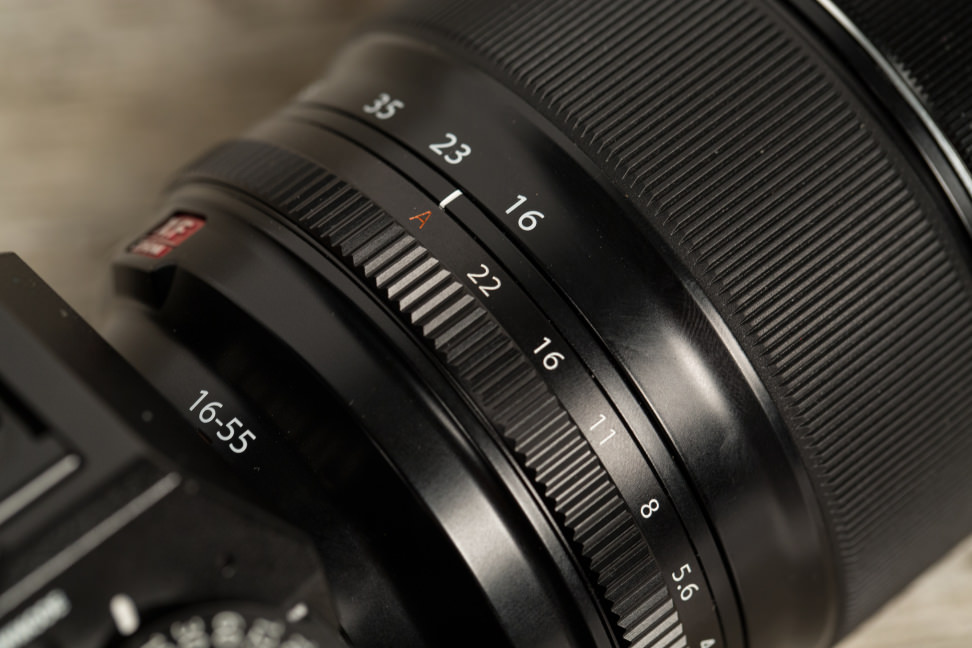 The aperture ring isn't mechanically coupled to the lens iris, instead merely telling the camera what setting you want. An "A" setting lets relegate control to a dial on the camera itself. That makes it more of a fun extra than a core feature, and indeed it can be overridden in certain shooting modes. Still, the ring feels great, with the right amount of resistance and solid detents at every 1/3rd stop.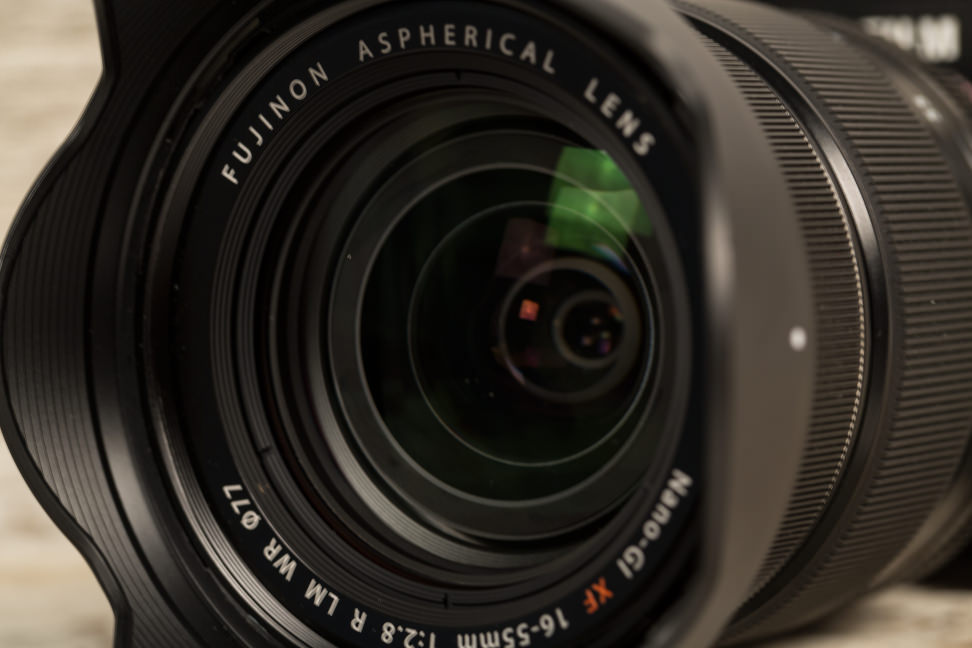 Forward from the aperture ring you'll find the large zoom ring, which dominates the rest of the lens barrel. As you zoom, the barrel extends outward. Combined with the large front element necessary to maintain an f/2.8 max aperture, that makes the lens feel a bit unbalanced. It's not a deal-breaker, but it could be problematic in certain circumstances, given the lens's lack of image stabilization.
Comparable Products
Before you buy the Fujifilm Fujinon XF 16-55mm f/2.8 R LM WR, take a look at these other lenses.
Image Quality
The 16-55mm f/2.8 is a clear step up for Fujifilm's zoom lineup. This is true not only of its physical design, but its image quality as well. Both in and out of our lab we found this to be a strong performer, though it's clearly designed to excel at the wide end of the zoom range, with more compromises made as you zoom in.
At 16mm, the lens is a touch soft at f/2.8, but it quickly sharpens up from f/4 through f/8. The same is true at 35mm and 55mm, too, but the lens's overall resolving power gets gradually worse as you zoom in. Geometric distortion also gets slightly worse, but chromatic aberration (color fringing in high contrast scenes) drops away.
At the telephoto end, the bokeh—particularly at f/2.8—is quite beautiful. The lens is able to isolate subjects for portraiture at 55mm, and while it's not on par with a lens like the Fujinon XF 56mm f/1.2 R, it's a great replacement in a pinch.
Below you can see sample photos taken with the Fujinon XF 16-55mm f/2.8 R LM WR mounted on a Fujifilm X-T1. Click the link below each photo to download the full-resolution image.
Conclusion
With pretty much every mirrorless camera maker now offering at least one high-end camera body, the rush is on to produce high-end lenses to match. While some systems already have a bevy of exceptional prime lenses at their disposal, fast zooms have been a little harder to come by.
There's a reason for that: Constant-aperture zooms are expensive and difficult to manufacture, which tends to drive up the price. They're typically also a little less sharp than corresponding primes, but they're vastly more convenient. That's a big deal for wedding photographers and other pros who need flexibility and top-flight image quality without the hassle of constantly changing lenses.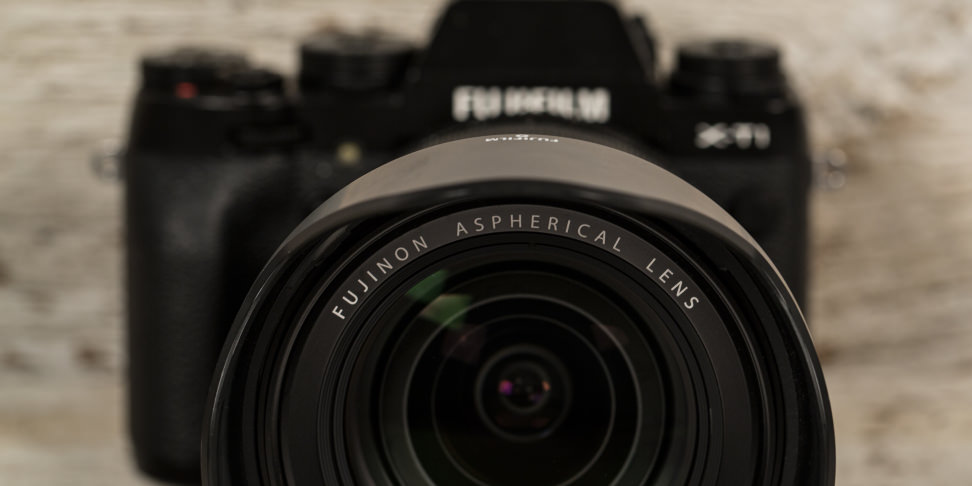 While Fuji's 18-55mm f/2.8-4 kit lens is a solid option for those who don't want to shell out $1,200 for a constant f/2.8 aperture, this is undoubtedly Fuji's best all-purpose lens. The weather-sealing is a real boon if you're an X-T1 shooter, the low-light performance is exceptional, and it's sharp at most working apertures—even if it isn't quite as good as the best lenses in this class.
Among Fuji's lineup, this is a top-shelf option. Compared to pro zooms in other systems, however, it's only an average performer.
Among Fuji's lineup, this is a top-shelf option. Compared to pro zooms in other systems, however, it's only an average performer. It's slightly unbalanced when zoomed all the way in, and it lacks image stabilization. That's not a deal-breaker—after all, Nikon and Canon's 24-70mm f/2.8 lenses also lack IS—but when every other Fujifilm zoom lens has OIS, it's a notable shortcoming.
Though they were built for different systems, we can't help but compare this to the Olympus 12-40mm f/2.8 Pro, which feels better balanced, can focus closer, and costs $200 less. If Fuji can get the price to that point, it'll have a real hit on its hands. Until then, you're still getting a great lens for the money, you're just spending a bit more than you might if you owned a different camera.
Our editors review and recommend products to help you buy the stuff you need. If you make a purchase by clicking one of our links, we may earn a small share of the revenue. Our picks and opinions are independent from any business incentives.